We're so Happy You are Here
Hello, I'm Savanna, CEO & the reason behind Allergy Defender. Our journey has been a long one but rewarding every step of the way.
OUR MISSION
Make life with indoor allergies healthier & happier.
With a safe mineral-based air and surface spray we stop allergy symptoms at the source. We offer an immediate and natural way to achieve indoor allergy relief.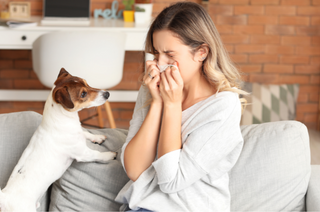 THE PROBLEM
Allergens, the invisable threat
Everyday there was a risk of an asthma attack— pet dander, pollen, and dust mites lurked everywhere. Without realizing it, allergens had created a fear in our everyday lives and controlled our every move. Growing up with asthma & allergies defined who I was and had a huge impact on my family.
We needed a new hero.
The Hero
Minerals, that are safe & sustainable
My father Chris, along with a dedicated team of chemists with expert knowledge in mineral-based products, developed an allergen neutralizing spray that changed my life with allergies. We decided this was too good to keep secret and thus Allergy Defender was born.
Our Promise
"For us, allergies are personal"
Those with asthma know how quickly and unexpectedly an attack can happen. An unfortunate lesson I learned in the early hours of Christmas as my first life-threatening asthma attack began when I was 5 years old. These type of events are what we actively work to reduce day in and day out for as many allergy & asthma sufferers as possible.
Its your turn
Invest in a future of breathing easy
Build a routine focused on living a happier & healthier life with indoor allergies. Our product is science-backed, sustainable, & safe for every person and pet in your family.