Made for
Asthma Educators
Immediate relief from major allergens in the air and surfaces. Backed by science.
Allergy Defender is partnering with Lorene Alba AE-C, Asthma Chef
"I have allergic asthma, and I'm allergic to pet dander, dust mites, and pollen. I use Allergen Spray in bedroom 3 times a week and have noticed a significant reduction in my allergy symptoms. It's become an important step for preventing asthma and allergy symptoms." -Lorene Alba, AE-C
A NEW KIND OF DEFENSE
Allergen Spray
Allergen Spray, a product developed by Allergy Defender, helps reduce allergic asthma triggers. It solves a problem most products can't; it can control both allergens in the air and on surfaces.
Zero plant ingredients
No harsh chemicals
Fragrance free
Scent-free
Backed by world-leading science
AN ADDITIONAL LINE OF DEFENSE
The Multicomponent Allergen Intervention Approach
We understand there is no one size fits all approach when dealing with asthma, so we want to be one of the multicomponents to reduce exposure to indoor asthma triggers. Mattress protectors, air purifiers, keeping pets out of the bedroom, HEPA vacuums, and more are vital. We want to be that extra step in helping someone find relief.
I had a problem that needed a real solution
Allergen Spray was designed out of a father's love for me, Savanna, his asthmatic daughter; we understand firsthand how difficult dealing with asthma can be (a life-threatening asthma attack at five years old was a wake-up call), so we created a product to help reduce triggers.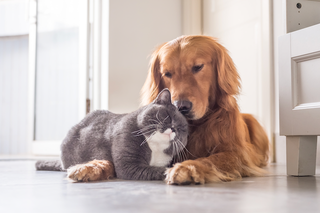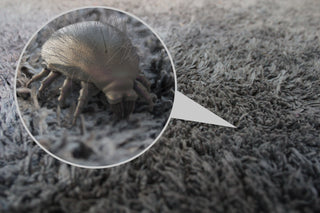 OUR MINERALS ARE
Designed to Defeat Major Allergens
Allergen Spray reduces the following allergens.:
cat dander
dog dander
dust mites
cockroach
pollen
How Allergen Spray REALLY WORKS:
This lab-tested mineral concentrate that makes up Allergen Spray binds to the allergens in the air and on surfaces. This process drops them to the ground, dehydrates and encapsulates the allergens rendering them inactive.
A Free Bottle to the first 100 AE's
Enter your name and address to receive your free Allergen Spray bottle. Supplies limited.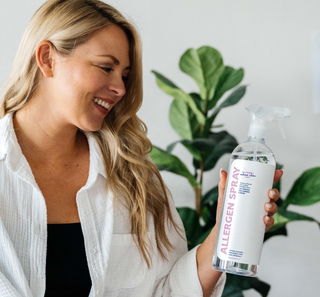 Chemist developed & Lab verified
Lab-tested Products that'll Actually Make Life Healthier & Happier?
Allergy Defender contracted with InBio, the world leader in allergen exposure assessment to lab-verify our product was safe and effective for allergy sufferers worldwide.
The Analysis Method Used: Multiplex Array for Indoor Allergens (MARIA®) 5-plex
What is MARIA: MARIA is an antibody-based immunoassay method developed by InBio utilizing Luminex xMAP® technology. The method has been validated through an international, multi-center trial, and the percent reduction of allergens is based on allergen concentration measured using the MARIA assay. 
InBio's Lab-Verified Results for Air & Surface Allergens
Air
Air testing - 95% to 80% reduction of major allergens
Based on the results from testing air samples collected from an environmental chamber, Allergen Spray effectively reduces the dust mite, cat, and dog allergens after being sprayed in the air.
Surface
Surface encapsulation - 99% reduction of major allergens
Based on the results from surface samples collected from multiple testing procedures, Allergen Spray effectively reduces the number of allergens from dust mite and cockroach matter, cat and dog dander, and pollens from surfaces after being treated.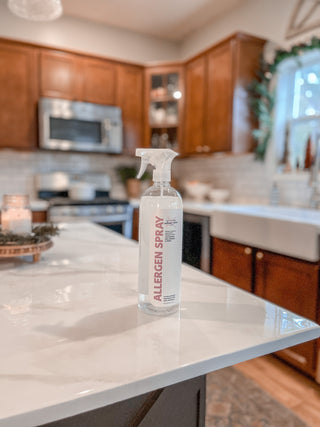 The Science Behind Our Safety
We only use 100% certified food grade and FDA GRAS* minerals meaning these ingredients are ultra-safe around and for food production.
Allergen Spray never contains any harsh chemicals, petroleum-based ingredients, plant ingredients, fragrances, or essential oils.
Allergen Spray is the safest alternative for allergy control where human, animal, and food contact is likely. 
Since even water can cause sensitivity to some people, we recommend stepping out of the room after spraying Allergen Spray as allergens and dust dry out of the air. 
*GRAS refers to substances that are Generally Recognized As Safe by the FDA. This designation is given to substances with a long history of safe use or that are safe through scientific study.
How to effectively use your Allergen Spray
How to effectively use your Allergen Spray
How to use
Allergen Spray is easy to use and comes prefilled with our mineral concentrate upon arrival.
Step ONe
Fill with Water
First, fill your Allergen Spray bottle to the top with tap water. Recap the bottle and shake until minerals dissolve, then attach the sprayer.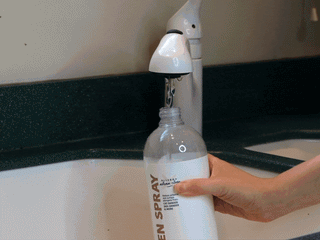 Step Two
Spray in Air & on Surfaces
Attach the sprayer and spray in the air and on surfaces in every room in your home. Our spray stops symptoms at the source by targeting allergens and dehydrating them.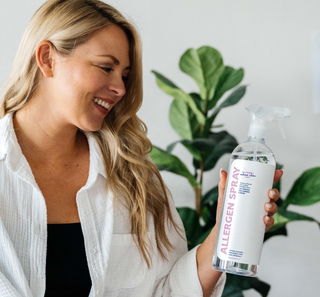 STEP THREE
Experience Allergy Relief
Repeat as needed to help keep allergens at bay. Allergy Defender's Allergen Spray- making life with indoor allergies healthier and happier.
Science Backed
Our products are tested by the world leader in allergen detection systems, InBio.
We are the only company to utilize 3rd party testing to verify the safety and performance of our formula.
Family-Owned
Started by a father desperate to help his daughter with asthma & allergies.
We are a small family-owned small business and proud of it. All products are made in the USA.
Eco-friendly
We never ship water and offer refill packs because sustainability is part of our everyday mission.
We encourage our customers to always reuse the bottle and recycle the cardboard refill sleeve.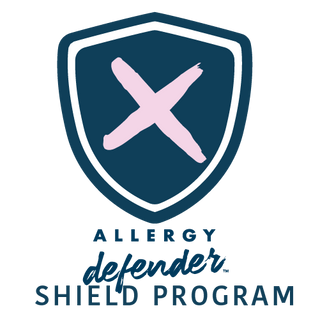 Allergy Defender Shield Program
We Are Committed to Making a Difference
Though we are a small company, our aspirations are grand. We aim to create a profound impact on one person's life at a time, recognizing the ripple effect it can have on their community and beyond. Together, we can work towards a future where asthma management is equitable and accessible to all, regardless of socioeconomic status.
Additional Information
Only Minerals
The proteins found in dog, cat, dust mites, cockroach and pollen are the primary cause of allergic reactions. They are all from living organisms.
Minerals, on the other hand, do not contain any proteins, that's why Allergen Spray's ingredients contain minerals and nothing else.
Fragrance Free
As a fellow asthmatic and allergy sufferer, we understand fragrances, scents, and VOCs can be a trigger. We do not include these in our product.
We also never recommend customers put essential oils in the bottle.
HMIS RATING
Hazardous Materials Identification System (HMIS) is a voluntary hazard rating scheme developed by American Coatings Association (ACA). HMIS communicates in-plant chemical hazard information through the use of colors, numbers, and letters of the alphabet. 0 is a minimal hazard, whereas 4 is severely hazardous.
We received 0 in all three categories, health, flammability, and reactivity.
This information is included on the back of every product we sell.