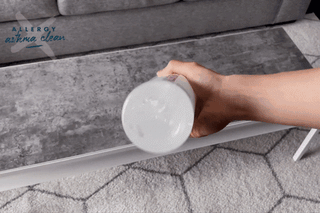 Air and surface spray
A New Kind
of Allergen Defense
Stop Indoor Allergy Symptoms at the Source
MEET ALLERGY DEFENDER
Making life with indoor allergies healthier & happier.
Like all good products, our story starts with a real problem needing a real solution. We offer an immediate and natural way to achieve indoor allergy relief.
We believe allergy free-days are the best days.
Eco-friendly
We never ship water and offer refill packs because sustainability is part of our everyday mission. We encourage our customers to always reuse what they can.
Family-Owned
Started by a father desperate to help his daughter with asthma & allergies. We are a proud family-owned small business.
Science Backed
Our products are lab tested by the world leader in allergen detection systems, INBIO. We utilize 3rd party testing to continually verify the safety and performance of our formula.
Free Shipping for over $30 | Try Risk-Free with a 30-day Guarantee | 100 % Minerals with No Harsh Chemicals
BUNDLE & SAVE
The Ultimate Relief Set
Stop your indoor allergy symptoms at the source
with over 100oz of spray solution.
"At night, I wake up unable to breathe, along with other allergy problems. This spray knocks everything out of the air and has worked for both my son and me. I sleep all night now and don't have breathing issues. We respray every couple of days, and it works great for us."
– Stacy Reynolds
"This spray has helped my allergies and asthma! I have dog allergies and we have a huskey at home and the spray has helped with lowering my symptoms. I love that it has no smell. But once I spray it the air in the house feels clean."
– Paula Jefferson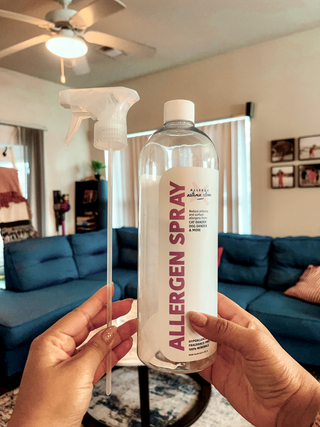 "My boyfriend always complains about being allergic to my cats, and we've had so many conflicts for this reason. I bought an air purifier along with this product, but I feel like this spray works better than the purifier cuz sometimes I forget to turn it on but as long as I sprayed some of this magic, my bf seems to stop sneezing&coughing."
– April Jenson
It's all about the science
Lab-Tested Products that'll actually make your life with allergies healthier & happier?
Shop now to stop your indoor allergy symptoms at the source.
How our Spray Works
Immediate relief in 3 simple steps
How our Spray Works
Immediate relief in 3 simple steps
Learn more about improving indoor air quality
As a company founded be a fellow allergy sufferer, we understand how challenging it can be to manage allergy symptoms in your own home. Allergies can be...
If you're a pet owner or have a furry friend in your home, you know that pet dander can cause allergies and make it challenging to breathe....